Join the call for unity in the lead up to and through COP23. We are uniting for climate action. Share your stories, events and messages with #Uniting4Climate.
Overview
World Bank's Global Partnership Program, Connect4Climate is joining the Government of the Republic of Fiji's incoming Presidency of COP23 in collaboration with Germany's Federal Ministry for Economic Cooperation and Development, and other partners to present the #Uniting4Climate communications campaign. The campaign is meant to highlight unity in support of climate solutions; countries, cities, regions, businesses, civil society and individuals are "Uniting for Climate Action."
In the lead up and during COP 23 (Conference of the Parties to the United Nations Framework Convention on Climate Change (UNFCCC) partners will share messages, host events and showcase climate solutions under the #Uniting4Climate hashtag.
The communications campaign could include solutions to rising oceans and managing vulnerability, the opportunities in climate action, and how low-carbon resilient economies are being built through united actions. Partners are encouraged to share their climate actions and solutions in the lead up to COP23, promote events and activities around COP23, and emphasize the unity in climate action coming out of COP23 towards building a low-carbon resilient future.
VR/360-Video Competition
As part of the communications campaign there will be a #Uniting4Climate VR/360-video pitch competition, which invites everyone (18+) who is committed to go beyond the expected for the Planet to deliver their solutions for immediate climate action by sending a pitch video for a 360-video (Virtual Reality) production on how we are "Uniting for Climate Action." The competition will be launched later in August at uniting4climate.net and the jury will be announced at the Venice International Film Festival on September 3.
Background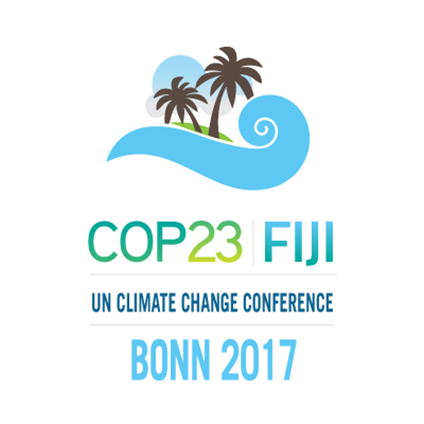 This year, Fiji assumes the Presidency of COP 23 (Conference of the Parties to the United Nations Framework Convention on Climate Change (UNFCCC) determined to maintain the momentum of the 2015 Paris Agreement and the concerted effort to reduce carbon emissions and lower the global temperature – becoming the first Small Island Developing State to assume the Presidency.
Format
The Uniting4Climate communications campaign invites all partners and all audiences to share their climate change experiences online with the hashtag #Uniting4Climate. It supports the COP23 communications and outcomes by fostering a sense of unity in addressing the climate challenge.
Presenting Partners
The Connect4Climate program and the Climate Change Group of the World Bank Group, COP23 Presidency, BMZ Germany, City of Bonn, European Union, UNFCCC, UNEP and more to come.
Collaborating Partners
Apidae, Asia-Pacific Institute for Broadcasting Development, Building Energy, Earth Day Network, TVE, Centre for Environmental Communication (India), Earth Day Network (USA), Green Hope Foundation (UAE), Luxembourg City Film Festival (Luxembourg), MIT Climate CoLab (USA), Green Shanghai – NYU Shanghai campus (China), Asia-Pacific Media Alliance for Social Awareness (Singapore), TVE (UK), UN CC:Learn, and others


 Share widely using the hashtag #Uniting4Climate @Connect4Climate @COP23


 Get resources in the #Uniting4Climate Drive.


 Find here the #Uniting4Climate Social Media Kit.